Although you may be in Hungary, Budapest for a city break far from Mexico, you are close to one of the most amazing Budapest nights out this Cinco de Mayo! Pub Crawl Special offers and an amazing time out await you, so don't miss out this pub crawl night in Budapest with Pub Crawl Budapest! Click here NOW!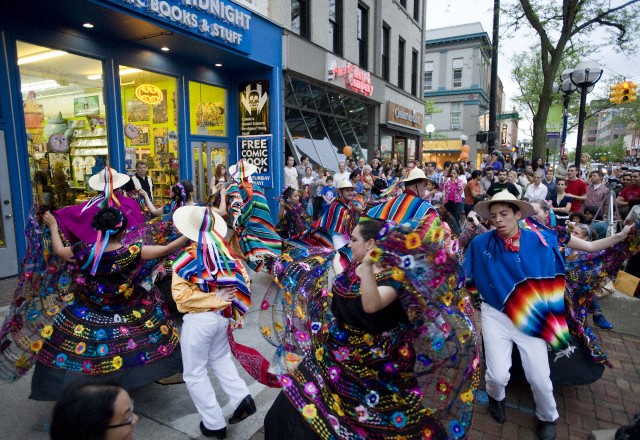 Free Cinco de Mayo Champagne Shots with Pub Crawl Budapest!
To get you in the fever for a great celebration of good Cinco de Mayo in Budapest, we will be offering champagne shots for all pub crawlers who come along with us, AllNightCrash Budapest Pub Crawl for a Cinco de Mayo night out in Budapest! Ask for your free shot of champagne form the AllNightCrash Pub Crawl guides at our every night meeting point, at the Oktogon, at 9pm sharp, in front of the Burger King!
Any other average budapest night party this Saturday cannot be an exception this Cinco de Mayo Pub Crawl, as the most well known ruin bars (as Szimpla kert and Instant) in Budapest and other popular locales and night clubs of Budapest will be there to celebrate Mexico.
ANC, AllNigtCrash pub crawl is the best and oldest Budapest pub crawl around, well worth the crawl, especially on this day, which is already quite known for boozing and having a great night and time out! The 5 de Mayo Pub Crawl look to be pretty cool, as a special 5 de Mayo champagne shot, than 4 bars with pub crawl welcome shots and a disco or club with special AllNightCrash Pub Crawl VIP entry await you in the party districts of Budapest's welcoming down town!
Wikipedia
"It originated with Mexican-American communities in the American West as a way to commemorate the cause of freedom and democracy during the first years of the American Civil War, and today the date is observed in the United States as a celebration of Mexican heritage and pride. In the state of Puebla, the date is observed to commemorate the Mexican army's unlikely victory over French forces at the Battle of Puebla on May 5, 1862, under the leadership of General Ignacio Zaragoza Seguín Events tied to Cinco de Mayo also occur outside Mexico and the United States. As in the United States, celebrations elsewhere also emphasize Mexican cuisine, culture and music."
Budapest also recognizes the significance of celebrating Cinco de Mayo, and this Budapest pub crawl is no exception! So get a pint of local beer (or a mexican one), try some vodka shot, and don't forget to taste some of the local specialties as well, as the (In)famous Hungarian Palinka !
Meeting point: Oktogon, in front of the Burger King (you can get there with the 1 metro line, the 4, 6 tram lines as well as 105 bus) (Cross of the Andrassy Street and the Budapest Grand Boulevard) Look for our guide in a red pub crawl jacket!
Meeting time: 9 PM sharp, after which the first AllNightCrash bar (as a good example for a typical small hungarian local pub) is only a few blocks away!
Route: As always, this is up to the pub crawl guides and the pub crawlers, so you guys as well! Budapest night life has so many great bars to show, it is hard to choose which ones to go to, but your AllNightCrash guide should have a pretty good idea of where to go out, and who will be celebrating the hardest night! Each pub will welcome you with a special pub crawl shot just for the occasion!
Image: 1
If you need more information about Budapest, check our Budapest Hungary Frequently Asked Questions page!