Ladies and Gentlemen, Pub Crawl Fans and Friends! 2023 is Approaching and Pub Crawl Budapest is ready to go!
Click book now, then choose 31st of December, then you will be able to choose the All You Can Drink Power Hour package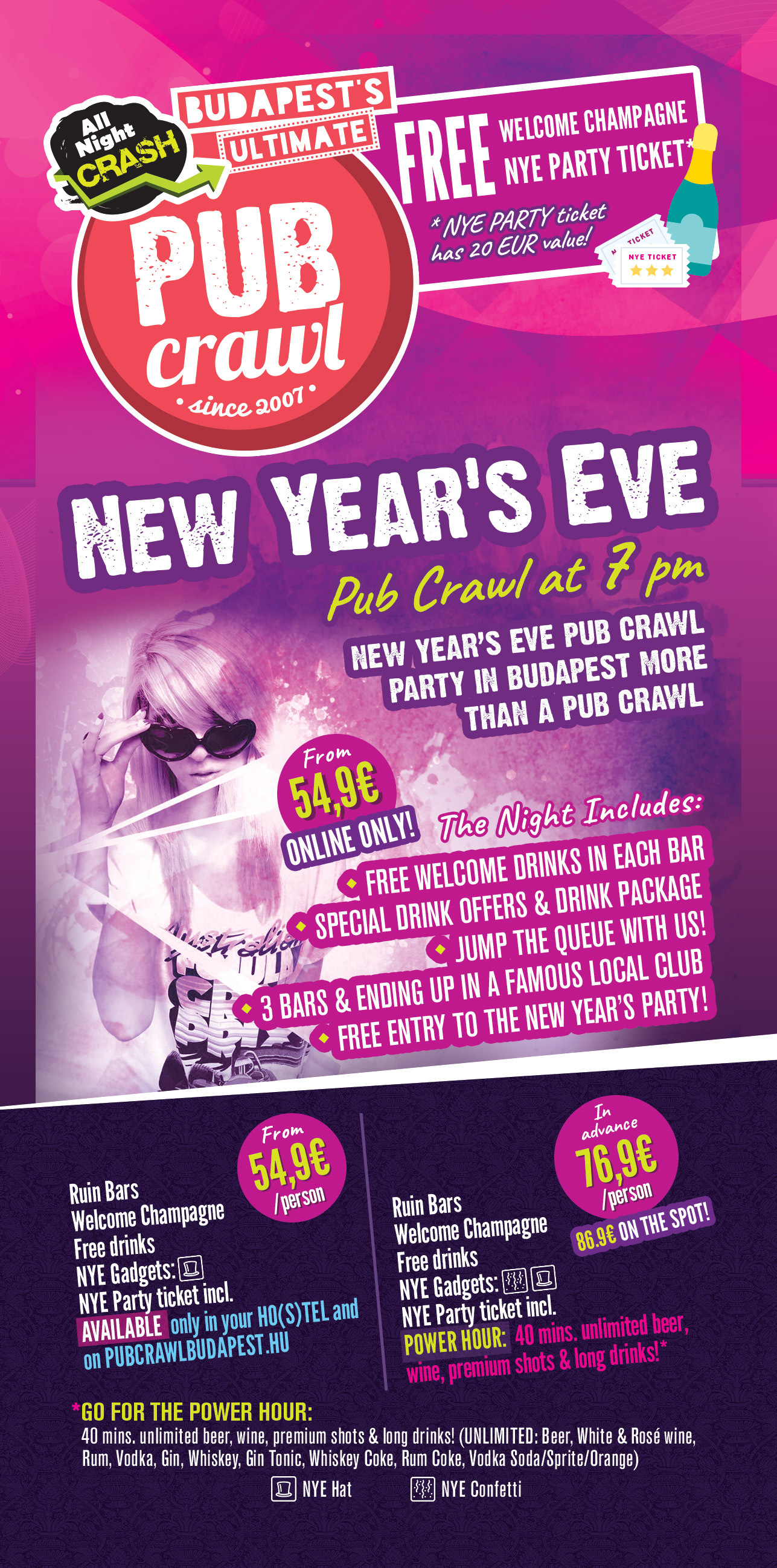 New Year's Eve Pub Crawl Budapest 2023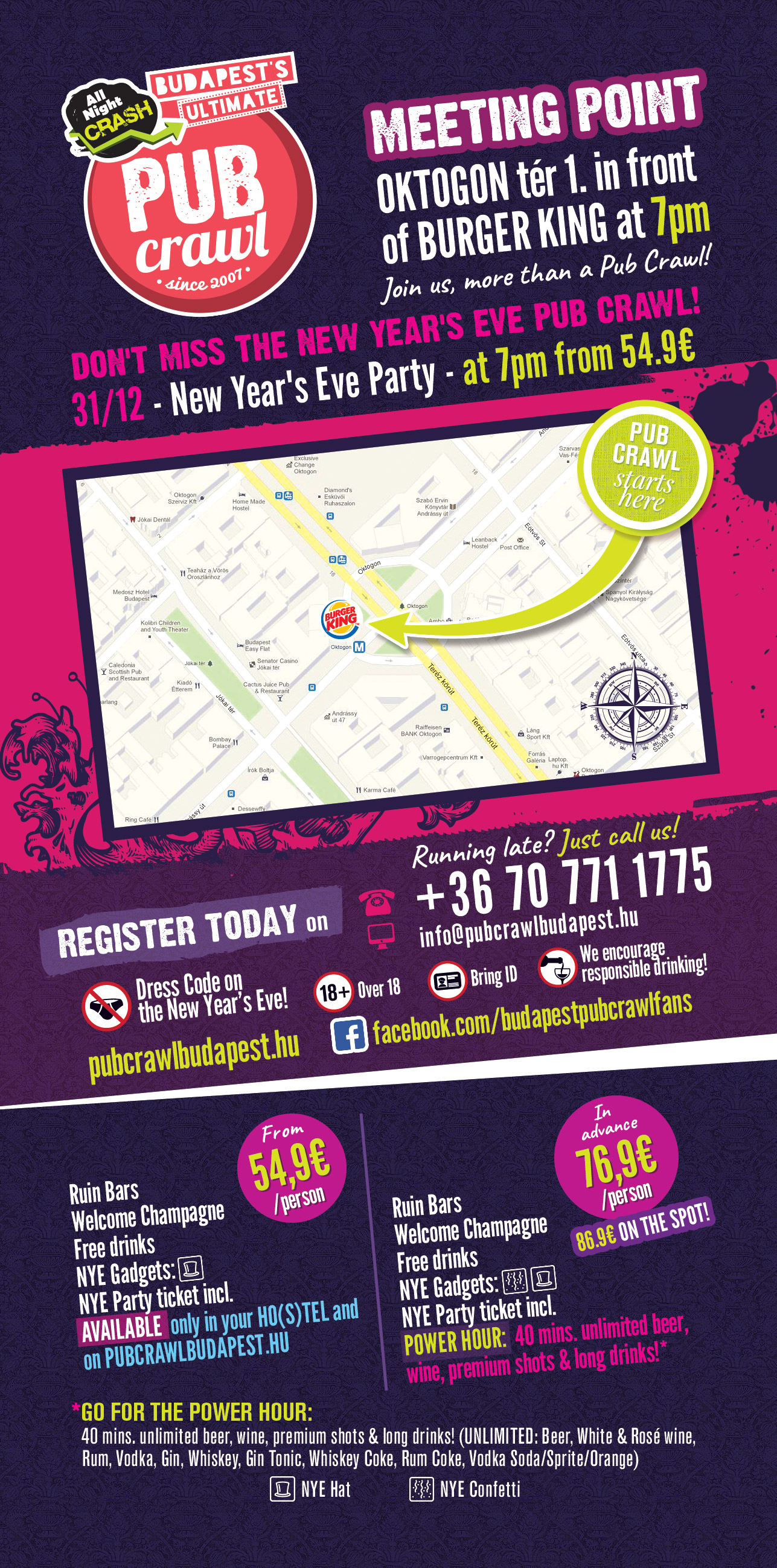 New Years' Eve Pub Crawl Packages
Standard Package
Ruin Bars
Welcome Champagne
Free drinks
NYE Gadgets: hat
NYE Party ticket incl. €15 value!
ONLY €54.9 online (you can't buy this ticket on the spot)
Power Hour Package
Ruin Bars
Welcome Champagne
Free drinks
NYE Gadgets: confetti, hat
NYE Party ticket incl. €15 value!
POWER HOUR: 40 mins. unlimited beer (Guiness included), wine, premium shots (Vodka, Rum, Whiskey, Gin) and long drinks (Rum & Coke, Gin & Tonic, Vodka Soda, etc)!
ONLY €76.9 online (€86.9 on the spot)
GO FOR THE Power Hour: 40 mins. unlimited beer, wine, premium shots & long drinks! (UNLIMITED: Beer, White & Rosé wine, Rum, Vodka, Gin, Whiskey, Vodka Soda/Sprite/Orange, Rum Coke, Whiskey Coke, Gin & Tonic)
Here it is, we have arrived to the end of 2021. This is the day when all of Budapest joins together for one final party, a magnificent Budapest new year's eve! If you want to see the biggest rager in the city of ragers, come with us on a magical New Year's Experience!
Hungarians like to end the year with a bang, and 2021 is no exception. Many of you reading this may have heard about New Year's Eve in Budapest, as this fair city is becoming an object of tourism more and more frequently during the New Year, and no wonder, the New Year's Eve party in Budapest is definitely the height of debauchery. There are numerous fun things to do, and not just on New Year's Eve, as the party starts roughly a week before the 31st. Many clubs, pubs and other drinking establishments welcome the throngs that visit Budapest for New Year's, but which ones are the best? If there is a time to get a tour guide to party with, who is an experienced drinker, a seasoned Budapest veteran, this is that time, as she/he can separate the good from the bad, will know where to go, and what to drink once you get there.
New Year's Eve in Budapest is definitely THE holiday for fans of the local nightlife. It is no exaggeration to say that almost all people know weeks in advance where they will be and what they will be doing, because most places will be absolutely packed until the next morning in each and every New Year's Eve Party, and even finding a standing placed unintroduced may prove more difficult than you imagined. But this is where we come in.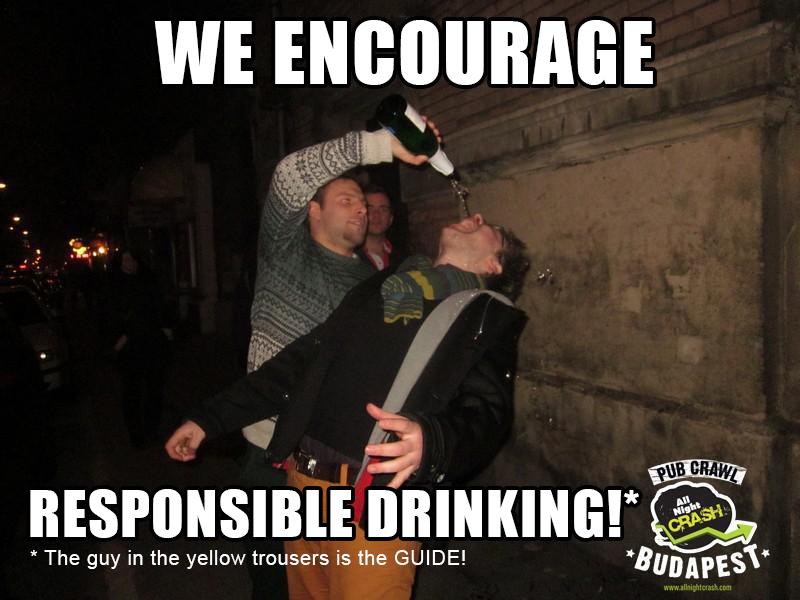 We are known in the local nightlife, we know all of the bars and clubs, and we can get a few seats anywhere, at any time. Even on New Year's Eve. And bars like to see us coming too, as they know that we will make it worth their while, so expect the best service, the best drinks, and the best locals!
A few words of advice!
As everyone is super excited, and is preparing for New Year's Eve we thought we would spice things up as well. We will be going from pub to pub, which will be extra fun, so make sure to bring some shoes that are good for walking in, and do bring a coat. We will be doing quite a bit of drinking, and even if you do not feel it, it will be quite cold. It is also important to eat something before we leave, or at least grab something along the way, as the alcohol will be strong and plentiful.
Dress Code
in some venues
Over 18
Bring ID
We encourage
responsible drinking!