The Longest Running Pub Crawl & Ruin Bar Tour in Budapest
Free Welcome Shots (one at each bar)
4 bars + 1 club
free vip entry
cool bars (most of them ruin bars)
MEETING POINT

Every night 9:00pm Oktogon, Burger King

Watch this video first:
Who we are
Welcome to Pub Crawl Budapest, the longest running ruin bar tour in Budapest. We proudly present you the best Budapest pub crawl through ruin bars in town! You found the best place to spend your evening, with the best people in town! (Believe me, only the coolest people come to our pub crawl, you can be one of them!) ❤️
We grew up here and saw the evolution of Budapest's nightlife day after day, and decided to share this experience with you. New bars and pubs are still popping up every now and then, but we are kind of old-fashioned (but not old!), and want to show you how it all started… Party all night crash the day after..
What we do
We will show you the most authentic ruin bars in our lovely city, share some drinks and enjoy the nightlife with you.
What you get
You will get free welcome shots (one at each bar) and VIP entry to every place we go (we also have a Budapest ruin bar map), and although there are big lines to enter into these bars, with our Budapest Pub Crawl you will never have to wait outside! SKIP the line with us! 🍹
Are you serious about it?
If you feel that you want to do things seriously, the All You Can Drink power hour pub crawl (40 minutes in the pub + one last takeaway drink during walking) is for you. Scroll down a bit to check it out that is for the wildest party people. Are you one of them? 😎
Still not convinced?
If you're not convinced yet, check out our reviews written by party people from all around the world! And one more thing… If you didn't like our Pub Crawl, we give your money back! You only have to tell us what went wrong, and it was a Free Pub Crawl in Budapest for you. Really, I'm not joking, I'm sure you will enjoy your stay 🙂 ❤️🍺🍹😎





40 mins. of unlimited drinks ❤️
– long drinks🍹 *
– premium shots**
– beers🍺, wines
– 4 Bars + 1 Club
– Free VIP Entry😎
– Ruin bars
* Vodka & Soda / Ginger, Rum & Coke, Gin & Tonic, Whisky & Coke
** Absolut / Finlandia / Smirnoff Vodka, Havana Club / Bacardi Rum, Gordon's Gin, Johnnie Walker / Ballantine's / Jack Daniel's whisky depending on the pub
MEETING POINT

Every night 9:00pm Oktogon, Burger King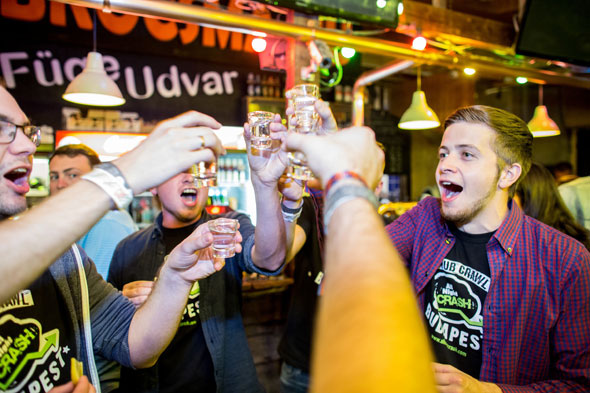 The Power Hour Pub Crawl is meant for the determined one, who does not want to take any chances, and takes the party to the next level… ❤️🍺🍹😎
All You Can Drink
We offer 40 minutes of Unlimited Premium Drinks with people who have the same idea about nightlife as you 🙂 And did I tell you we are the only pub crawl in Budapest offering long drinks in their all you can drink package. Why limit yourself to shots and beer, when you can have a rum with some coke, or gin & tonic?
The Same Tour At The Same Time
Of course, it includes everything from our "ordinary" (actually nothing is ordinary with us!) pub crawl, power hour is the second level…
For some of us, it's a power hour every night 🙂 If you want an epic pub crawl choose the power hour!
This is an extra package, but happens at the same time with the same super group of people! Let's meet at Oktogon, 9PM!
Private Pub Crawls
Would you like us to organise your Pub Crawl for you? Do you want to be with your close friends? Try our Private Pub Crawls (<—-CLICK HERE!!!!)! Let us know what you need, where we should pick you up, and we will do our best to make a perfect night for you!
Stag Pub Crawl
You want to celebrate your last free days in Budapest? This is the best choice that you can have! Budapest has everything that you need to make your stay unforgettable. We have a lot to offer to Stag / Hen groups! Check out our Stag Pub Crawl page, and contact us for our specialised offer!
Beer Pub Crawl
Bored of lager beers everyday? Our Craft Beer
Questions & answers about Pub Crawl Budapest
Do you have some doubts, you can't decide? We compiled the most common questions that you asked us over the last decade! Check out our Questions & Answers about Pub Crawl Budapest!